Girls Golf
10/22/20
Thank you everyone for all your kind thoughts, words of encouragement, treat surprises, send-offs, and congratulatory remarks expressed to the SFT Golf-Girls and me. We really appreciated the support.
These ladies represented SFT with class, and worked hard to make Trail Proud. Seniors: Courtney Stone, Kierra Lira, Caitlyn Myrick
Juniors: Carley Cox, Marissa Losson, Freshman: Braegan Buessing
Results of the 2 Day 3-2-1A State Girls Golf Tournament at Cheney Ks Oct 19 & 20:
SFT finished 8th as a Team, and we had an Individual State Medalist!!! (State medals the top 20 Individuals. There were 63 Individuals.)
Braegan Buessing finished in 12th place as an Individual!
Here's to continued success on The Trail for everyone.
Go Chargers!
---
10/12/20
For the first time in SFT history, the SFT Ladies Golf Team has qualified for the state tournament!!! Braegan Buessing is THE Regional Champion. Nice work girls!! Good luck at STATE! (State is in Cheney, on Oct 19-20)
Great accomplishment for USD 434 extracurricular activities!
SFT Girls Golf Team placed 3rd at our Regional Sub-State on Monday Oct 12, qualifying the entire team to advance to the State 3-2-1A Girls Golf Tournament.
SFT Braegan Buessing was the tournament Medalist! Braegan fought back to gain strokes on the top competitors. She focused and earned the Tournament win over the entire field, carding a 91 for the FIRST Place Individual Medalist Honors.
SFT will compete in the 3-2-1A State Girls Golf Tournament on Monday & Tuesday, Oct 19 & 20. Awards will be based on 2 Days of 18 hole play each day. Our girls' tee times and other tournament information can be found on KSHSAA web-site: "activities, golf', state parings".
We will play at Cherry Oaks in Cheney both Monday & Tuesday, Oct 19 & 20.
Please extend well wishes and send good vibes to the following SFT Girls Golf Team Members:
Marissa Losson
Thank you for your support!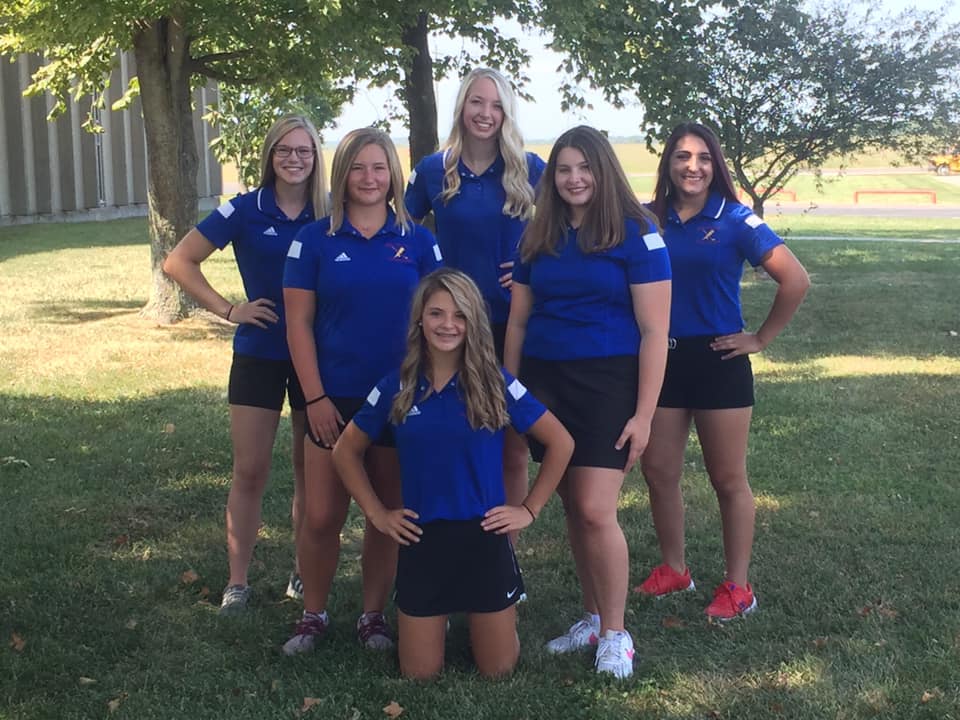 10/5/20
Breagan earned the 2nd place Individual Medal!
82 1st (Sr from host school, Anderson Co)
85 2nd Braegan
87 3rd
88 4th
Monday, Oct 12, is substate. There are 13 schools in our substate. 6 Individuals & 3 teams will advance to State.
Wish them Well. Send good vibes.
---
9/22/20
These girls placed 2nd as a Team, out of 7 teams, at the Silver Lake Invitational held at Great Life North Topeka on Tuesday.
Carley Cox placed 3rd as Individual Medalist. She tied for 2nd, with her 46, but lost in the scorecard handicap playoff,

Carley Cox

Kierra Lira

Marissa Losson

Kierra was the 7th place Individual Medalist, carding a 49
---
9/17/20
SFT played well in the Osage City Invitational!
15th individual medal Carley Cox 56
3rd individual medal Courtney Stone 48
2nd individual medal Braegan Buessing 45
Caitlyn Myrick also participated & improved her average, shooting a 60
They took 2nd Place as a Team out of 9 teams. : )
---
9/1/20
Girls Golf also had a successful afternoon at the Ottawa Invitational.
There were 40 individuals & 7 schools in this tournament.
Earning Individual top 10 Individual Medals were:
Kierra Lira at 5th place
Braegan Buessing (repeat champ)! 1st Place Individual
Braegan shot 2 over par today, (38) sealing 1st place by 5 strokes over the 2nd place finishers, 2 competitors shot a 41
SFT Team score earned 2nd Place Team Medals, 3 strokes under (better) than the Osage City Team which placed 3rd.
SFT Girls Golf Team
Courtney Stone, Courtney placed 15th at this Ottawa Invitational
8/26/20
Hey Chargers! SFT Girls Golf competition has begun. We had our first tournament today, 8/26, at Lake Perry. The girls did great & brought home the first 2020 awards for Trail!
drumroll: Individual Medalist
15th Carley Cox (56)

10th Courtney Stone (53)

1st place, YES, THE Tournament Medalist, shooting 6 over par, Braegan Buessing (41)
SFT Placed 2nd as a TEAM Score (212), earning Silver Medals!
There were 7 teams at this meet, 34 individuals.
Congratulations to SFT Girls Golf Team:
Braegan Buessing (Freshman)

Courtney Stone (Sr, 2nd year golf)

Carley Cox (Jr, 3rd year)

Kierra Lira (Sr, first year golf)

Caitlyn Myrick (Sr, 2nd year)

Marissa Lossen (Jr, new student to SFT & to golf)
Mary Burgett 800-836-9525 mburgett@usd434.us